Posted by Nick Belcher for Great Plains Stainless. By Courtesy of Extreme Bolt.
---
Sulfuric Acid ( H2SO4 ) is one of the most widely used and important acids, being an essential component to many industries. Equally as important is selecting the right material to survive this environment. This newsletter will provide options.
WHICH IS BEST?
That depends on BOTH concentration and temperature – TOGETHER
When looking at corrosion, the temperature of an application and chemical concentration are interconnected – always. You cannot consider one without the other. If the concentration of a chemical is high, typically the temperature at which a material can handle the acid will be lower, and vice versa – for applications that run at a higher temperature, the concentration will generally need to be lower to prevent corrosion. That said there are still many materials that can handle hot sulfuric acid:
Alloy 20 bolts deserve a first look for basic high temperature resistance. It works well in 20-40% boiling sulfuric acid.
Hastelloy cannot work in boiling H2SO4, but it can service high concentrations sulfuric acid to high temperatures typically below ~135°F.
Zirconium is excellent for high temperature sulfuric acid up to 300°F and 70% concentration. But beware. Zirconium bolts can readily corrode if exposed to any oxidizers – even trace amounts.
Tantalum is the ultimate protection from H2SO4 but comes at very high price. Therefore it is reserved for the most severe services. For ALL concentrations up to 98% at any temperature up to 350°F tantalum bolts will have virtually no corrosion rate.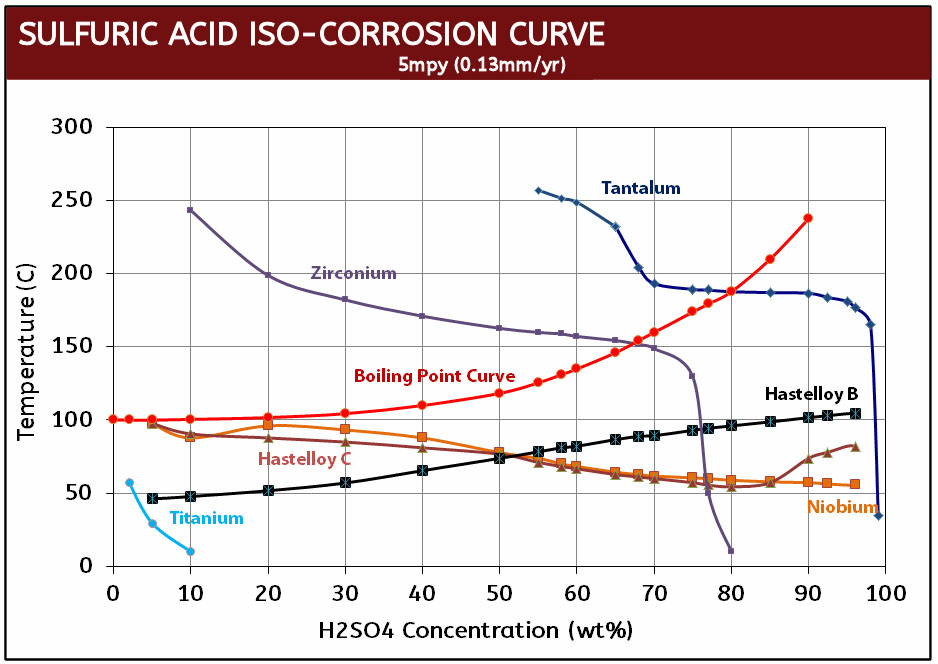 HIGH STRENGTH
•  Hastelloy screws will not only perform excellent in high temperatures and concentrations, but also offers up to 100ksi of tensile strength.
•  For higher strength, you can look at Inconel 625. Inconel bolts offer slightly less corrosion resistance than Hastelloy but can provide 144ksi of strength.
POLYMERS FOR H2SO4
•  PTFE and PFA offer the highest level of corrosion resistance for polymers. The only drawback is they lack in strength.
•  For high strength corrosion resistance to sulfuric acid, PEEK screws can offer good corrosion resistance and are the highest strength polymer available.
CERAMICS?
Yes, of course we always forget to mention these. Ceramics are usable to 4000°F and are almost inert to most chemicals including sulfuric acid. So they can handle both high temperatures and high concentrations – but not strength. Though ceramic screws are the right material for many applications, they lack yield strength and can be brittle – so they are an option under certain circumstances.
---
By Courtesy of Extreme Bolt