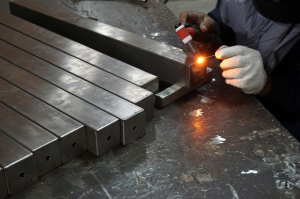 In many cases, when working with stainless steels, manufacturers have a need to weld the material. Welding connects two separate pieces of stainless steel together, allowing those pieces to work together as one greater entity.
The welding of stainless steels can be a tricky thing. You may think that all stainless steels can be welded equally; however, the truth of the matter is that some stainless-steel alloys are more weldable than are others.
To help you understand this point, we're going to discuss the weldability characteristics of the various stainless-steel classes below.
Austenitic
Austenitic stainless steels fall in the 200 and 300 series of stainless-steel alloys. These alloys are highly resistant to corrosion and extremely malleable. In addition to these characteristics, they're also exceedingly weldable. In fact, austenitic stainless steels are the most weldable stainless steels on the market.
This brand of stainless steel can be welded without the use of any heat treatment whatsoever. Most typically, when welded, specific alloys of austenitic stainless steel are welded to identical species of austenitic stainless steel. For example, alloy 316 fillers are generally welded to alloy 316 base items.
Ferritic
Ferritic stainless steels fall in the 400 series of stainless-steel alloys. While they're quite strong and resistant to corrosion, they lack in ductility, and are prone to cracking when exposed to hot temperatures. For this reason, they possess very little in terms of welding capabilities.
Nonetheless, they are welded on occasion, usually in thin sheets.
Martensitic
Martensitic stainless steels fall into the 400 and 500 series of stainless-steel alloys. While they're strong and durable, they perform poorly when in corrosive environments. Because they are vulnerable to cool cracking, they don't weld easily.
However, this does not mean that it's impossible to weld martensitic steel. In fact, manufacturers do so on a regular basis, usually by welding together pieces of metal with identical carbon and chromium percentages.
Duplex
Possessing both austenitic and ferritic characteristics, duplex stainless steels, like S31803 (2205) possess a solid combination of toughness, durability, and ductility. However, where they truly thrive is in their resistance to corrosion.
In terms of weldability, duplex stainless steels are capable, but not exactly exceptional. They can be, and are welded on a regular basis, but they are not sought out for their welding capabilities.
When welding duplex stainless steel, one must be very careful with temperatures. Using either too little or too much heat can compromise the structural integrity of the steel, rendering it useless.
Precipitation-hardening
Precipitation-hardening stainless steels are a combination of martensitic and austenitic stainless steels. Resistant to corrosion, and capable of being hardened through heat, this type of stainless steel possesses above average weldability.
While the weldability of precipitation-hardening stainless steel isn't quite on par with the weldability of austenitic stainless steel, it's still very good. It can be welded without preheating treatment, but usually must be heated after the weld has been completed in order to preserve the structural integrity of the weld.
Looking for Stainless Steel Products?
Are you in need of stainless steel products, like Duplex S31803 (2205) or N08904 (904L)? If so, we here at Great Plains Stainless are the people to call. We sell stainless steel products of all kinds, including bars, pipes, plates and fittings, to name just a few.
Our products are made out of a variety of different stainless-steel alloys, allowing you to choose one which suits your needs. Regardless of where you're located in the world, we can ship our top-end stainless steel products directly to you.
Contact us now to discuss your needs!