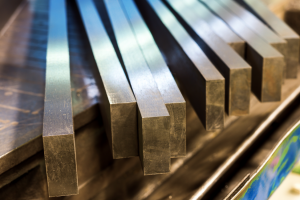 There is no shortage of stainless steel alloys on the market today, each of which offers something unique in terms of functionality and performance. While some of these stainless steels possess tremendous strength and toughness, others possess top-notch corrosion resistance and malleability.
In this particular article, we're going to focus in on N08904 (904L) stainless steel, a corrosion-resistant stainless steel that thrives in environments where abrasive chemicals are present. Ready to take a closer look at N08904 stainless steel? Let's begin!
Characteristics of N08904 Stainless Steel
N08904 stainless steel thrives on a number of different fronts. The most prominent of its characteristics are as follows:
Highly Weldable
While it's not the most readily weldable stainless steel on the market, N08904 stainless is still very easy to weld. This has a lot to do with its heat tolerance, which ranges on the high side.
Because it has such a high heat tolerance, it rarely suffers oxidation. Therefore, it can be attached to other pieces of steel with very little to no scarring presenting itself at all.
Malleable
Though it's on the hard side, N08904 stainless steel is actually fairly easy to bend. While it's not the most malleable stainless steel on the market today, it's more than malleable enough to be formed into pipes, bars, and other fairly intricate items.
In general, N08904 stainless steel shouldn't be used solely for its malleability capabilities. However, considering its high weldability, high resistance to heat, and high resistance to corrosion, it's an exceedingly malleable alloy.
Highly Resistant to Heat
As noted above, N08904 stainless steel possesses high resistance to heat. In fact, it maintains its structural properties in temperatures of up to 700°F.
Because of this, N08904 is often heat treated. This allows its hardness to be increased substantially, making it one of the tougher and more durable stainless steels on the market today.
Resistant to Corrosion
One of the characteristics that N08904 is most renowned for is its resistance to corrosion. While it's not the most corrosion-resistant stainless steel on the market today, it is toward the top of the most corrosion-resistant stainless steels.
Not only does N08904 withstand the effects of various acids, but of chloride-rich environments as well. This makes it a terrific steel for applications where chemicals and/or ocean water are present.
Applications for N08904
While N08904 stainless steel is used for a number of different purposes, it's most commonly used in the chemical processing, oil, and paper industries. This is because it's highly resistant to corrosive environments and is more than capable of withstanding the abrasive chemicals present in such industries.
In the oil industry, N08904 is often used in the transfer and distribution of oils. It is sometimes used for oil processing as well.
In the chemical processing industry, N08904 is very prominent, capable of withstanding everything from sulfuric acid, to organic acid, to phosphoric acid, and more.
The paper industry uses N08904 primarily in the processing of dyes. Paper-coloring dyes can be fairly abrasive, requiring the anti-corrosive strength of a steel such as N08904 in order to be mixed and stored.
In Need of N08904 (904L) Stainless Steel Items?
Do you have a need for N08904 stainless steel? Are you looking to buy N08904 stainless steel items right now? If so, Great Plains Stainless is the company to call.
Whether you're looking for N08904 pipes, bars, weld fittings, or flanges, we can accommodate you. Regardless of where you're located in the world, we are able to ship your order directly to you.
Contact us right now to discuss your needs!